What's on your plate? In 2016, the United States Department of Agriculture updated its Dietary Guidelines for Americans – with a revised take on which foods we should feature on our plate every day.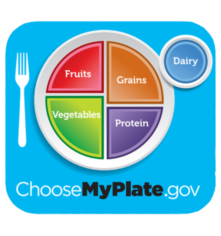 The MyPlate program which interprets this 8th edition of the Guidelines, offers ideas and tips to help create a healthier eating style that meets individual needs and improves health.
This edition "recognizes the importance of focusing not on individual nutrients or foods in isolation, but on the variety of what people eat and drink—healthy eating patterns as a whole—to bring about lasting improvements in individual and population health."
According to the USDA, a perfect plate contains 50% fruits and vegetables with grains, proteins and dairy rounding out the requirements. Selecting foods with less saturated fat, sodium and added sugar is recommended. Focusing on whole fruits, varying your veggies choices and moving to low or fat-free dairy are also an integral part of MyPlate healthy eating.
You may want to try some of our seasonal ideas to help include fresh fruits and veggies in your spring and summer meals.
And when you have an extra minute or two, you may want to visit MyPlate to get even more ideas.