What's on your plate? In 2016, the United States Department of Agriculture updated its Dietary Guidelines for Americans – with a revised take on which foods we should feature on our plate every day.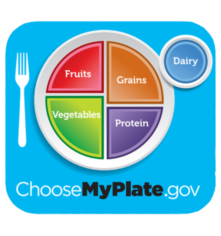 The MyPlate program which interprets this 8th edition of the Guidelines, offers ideas and tips to help create a healthier eating style that meets individual needs and improves health.
This edition "recognizes the importance of focusing not on individual nutrients or foods in isolation, but on the variety of what people eat and drink—healthy eating patterns as a whole—to bring about lasting improvements in individual and population health."
According to the USDA, a perfect plate contains 50% fruits and vegetables with grains, proteins and dairy rounding out the requirements. Selecting foods with less saturated fat, sodium and added sugar is recommended. Focusing on whole fruits, varying your veggies choices and moving to low or fat-free dairy are also an integral part of MyPlate healthy eating.
You may want to try some of our seasonal ideas to help include fresh fruits and veggies in your spring and summer meals.
Who doesn't love sweet strawberries and tangy blueberries? Try our Strawberry Poppyseed Turkey Salad recipe -- full of these seasonal fruits, fresh summer lettuces and a protein kick, turkey.



Crisp cucumbers and juicy tomatoes combine with chick peas in our Mediterranean Chop Salad recipe. A colorful and nutrient-filled choice.



Peaches are a summer favorite, and a great flavor boost to a salad. Try our Peach & Goat Cheese Salad recipe with tangy goat cheese, hazelnuts and, ripe, juicy peaches.



Looking to try out some new grains such as quinoa? Our Harvest Grain Salad recipe combines your whole grain of choice with dried fruits, nuts and diced grapes. Add sliced turkey for a protein boost.



If you are a mango fan, you may really enjoy our Tangy Mango Poppyseed Salsa recipe. Try over a bed of garden fresh lettuce -- or one of the many tasty uses for this delicious salsa.
And when you have an extra minute or two, you may want to visit MyPlate to get even more ideas.